Albanese's visit: Reinvigorating the China-Australia ties
By Imran Khalid
The upcoming visit of Australian Prime Minister Anthony Albanese to China has ignited considerable enthusiasm and expectations. This visit marks the most recent in a sequence of encouraging strides aimed at reinvigorating China-Australia ties. China holds the distinction of being Australia's largest trade partner, boasting substantial market potential for a plethora of Australian commodities and products. Therefore, it is only logical for Australia to pursue a robust and harmonious state-to-state relationship with China.
Last week, Albanese was in Washington, where he was advised by U.S. President Joe Biden to "trust but verify" on the matters pertaining to relations with China. Yet, in a speech delivered at the U.S. State Department, Albanese defined his government's approach towards China as "patient, calibrated and deliberate." Albanese said, "Australia will always look to cooperate with China where we can, disagree where we must and engage, in our national interest."
A positive note lies in the fact that, while in Washington, Albanese displayed a high level of confidence when it came to defending his government's reconciliatory approach towards China. It is a reality that the United States does not have any fresh excuses to discourage Australia from constructively engaging with China.
There are many favorable signs for the continuation of the positive momentum in Chinese-Australian relations. And the anticipation is that the Albanese administration will persist in its pragmatic China policy in the forthcoming days.
During the prior Australian administration, Australia's approach towards China had become increasingly fraught with skepticism, at times overshadowing its own capacity for independent decision. The era of Morrison's government saw Washington's influence wield a significant and dominant role.
However, unlike his predecessor Morrison, who preferred to join the American club wholeheartedly, Albanese appears to be trying hard to strike a pragmatic balance in Australia's foreign policy. On the one hand, he wants Australia to acquire a role as the fulcrum of the U.S. "Indo-Pacific Strategy," while on the other, he does not want to disturb relations with Australia's biggest trading partner and one of the largest buyers of its rare minerals.
Under Albanese's leadership, there has been a concerted effort to adopt a multifaceted diplomatic approach, which involves reinforcing ties with the U.S. and also recalibrating relations with China. Ironically, Australia's chronic inability to establish sustainable relationships with China and the broader Asian region can be traced back to its historical challenges in cultivating genuine trust with its regional counterparts. The AUKUS pact serves as a stark indicator to its neighbors in Asia that Canberra's primary alliances extend elsewhere.
Concurrently, Australia also seeks to leverage its geographic positioning as a diplomatic asset and carve out a strategic role in the broader Asia-Pacific landscape. Ironically, in this effort, Australia has evolved into a "sub-center" for Washington's "Indo-Pacific Strategy," which places Australia in a difficult predicament; requiring careful adjustment of its ambitions to balance its alignment with Western interests while pursuing its trade objectives in the region, especially concerning China.
This is the trickiest part of Australia's foreign policy. Nonetheless, the disconcerting reality remains that unless Australia reevaluates its heavy reliance on Anglo-American interests, it may struggle to position itself as a reliable ally to fellow Asia-Pacific nations. However, recent developments suggest a promising thaw in China-Australia relations, as indicated by last month's agreement between Beijing and Canberra on a "proper resolution" of trade conflicts related to wine and wind towers within the framework of the World Trade Organization.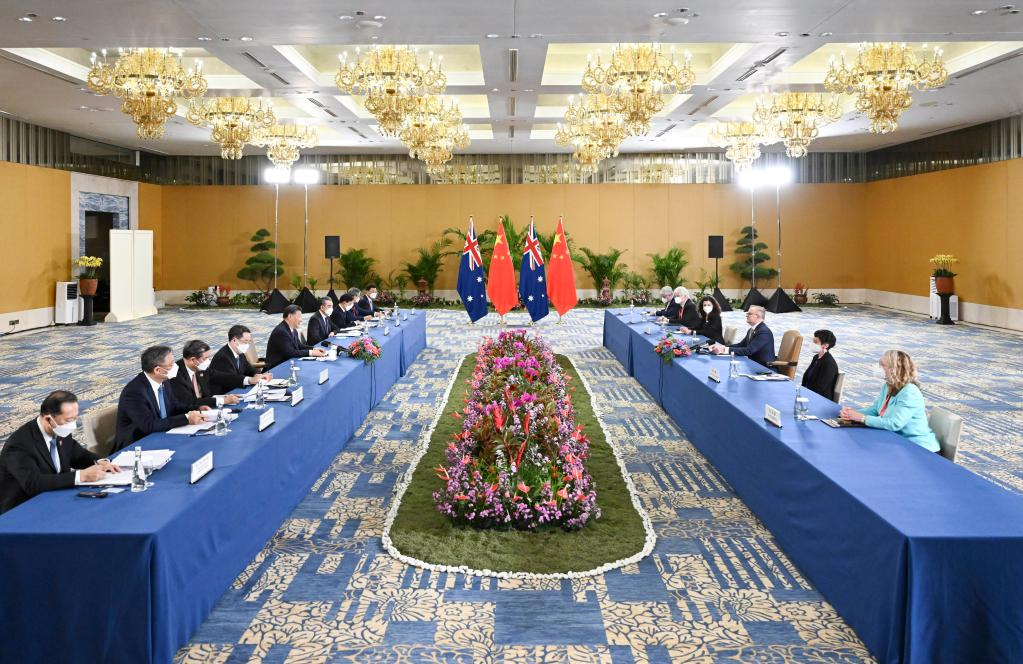 Chinese President Xi Jinping meets with Australian Prime Minister Anthony Albanese in Bali, Indonesia, November 15, 2022. [Photo/Xinhua]
The growing bilateral trade and economic interdependence between these two nations hold immense promise for reconciliation. Presently, Australia's economic well-being is closely interconnected with that of China, making it increasingly impractical to prioritize trade with other nations at the expense of its crucial partnership with Beijing.
In 2022, the trade between the two countries touched $220 billion. Similarly, during the initial nine months of 2023, there was a substantial 10.2 percent year-on-year surge in bilateral trade. This symbiotic trade relationship undeniably holds significant value for Australia, underlining the potential for constructive engagement and cooperation that can enrich both countries while managing the complexities of global geopolitics. It also suggests a gradual return to normalization, a welcome development in the context of bilateral relations.
Keeping this in perspective, there are high expectations that Albanese's visit to Beijing, the first by an Australian prime minister in seven years, will inject more positivity into the bilateral relationship between China and Australia.
Albanese's visit to China represents a significant break for both countries to embark on a fresh path of collaboration. Beyond the pivotal trade ties, this visit holds the potential for leaders from both sides to jointly envision regional tranquility, enduring stability, and sustainable progress.
The author is a special commentator on current affairs for CGTN.