Immediate cease-fire should be called to prevent humanitarian catastrophe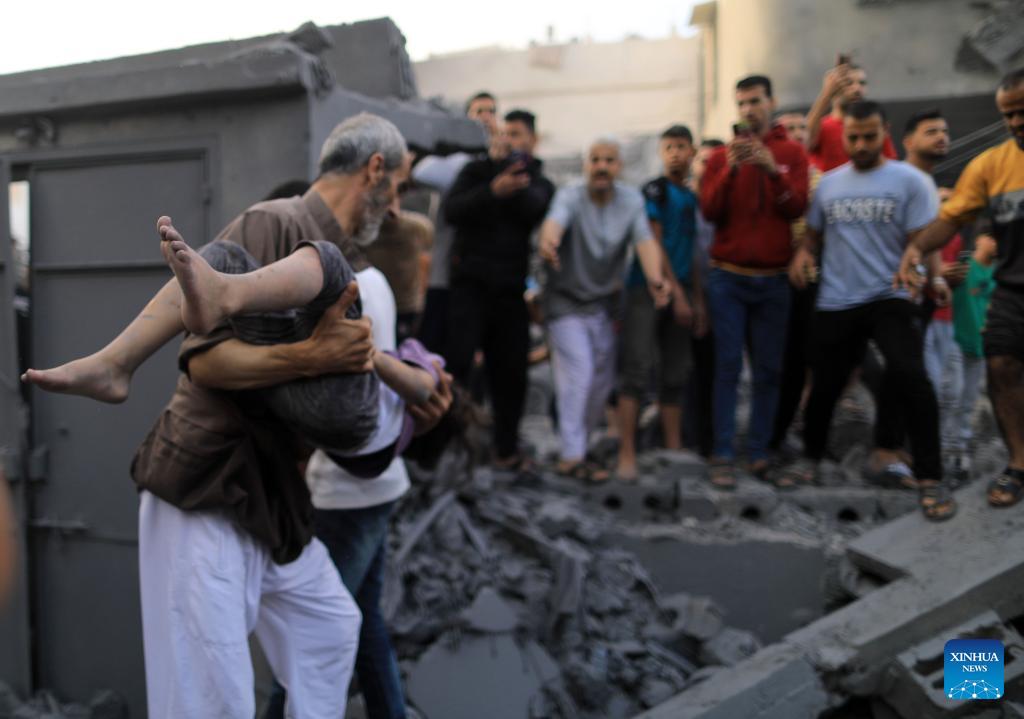 People help a survivor among rubble of a building after an Israeli air strike in the southern Gaza Strip city of Khan Younis, Oct 14, 2023. [Photo/Xinhua]
This is an editorial from China Daily.
As the Israel-Palestine conflict drags into the second week, the severest Israeli-Palestinian violence in half a century appears spiraling out of control, and turning into a regional crisis that would not only lead to a massive humanitarian disaster but also imperil regional and global peace and stability.
The international community, influential players in the region in particular, should take an impartial stance, strongly condemn the violence against civilians and do their utmost to broker an immediate cease-fire. For, once Israeli forces begin ground operations in the Gaza Strip to root out the Hamas leaders and militants, the more than 2 million Palestinians trapped there risk becoming collateral damage.
Since Hamas launched the surprise attacks on Israeli targets on Oct 7, about 4,000 people have been killed on both sides. The tit-for-tat military operation Israeli forces have launched against Hamas has sealed off the Gaza Strip and escalated the humanitarian crisis.
Like other members of the international community, China is saddened by the loss of innocent lives on both sides and shudders at the thought of a humanitarian catastrophe befalling the Gaza Strip as Israel puts boots on the ground. As a responsible country, China has stepped up efforts to coordinate with other countries to mediate peace.
For instance, in his phone call with US Secretary of State Antony Blinken on Saturday, Foreign Minister Wang Yi stressed that major powers be objective and impartial, and abide by international law when dealing with regional hotspot issues.
Indeed, a major reason the Ukraine crisis is dragging on is because some Western countries have kept pouring oil on the flames of the Russia-Ukraine conflict. Given this fact, the Israel-Palestine conflict couldn't have broken out at a worst time.
Palestinian lives are at stake, so is regional and global peace. This is a time for cooperation between the members of the international community, so that joint efforts can be made to put an end to the violence and revive the stalled Middle East peace process.
Violence perpetuates violence, spilling more blood of innocents and instilling permanent animosity and hatred among members of both sides. Like UN Secretary-General Antonio Guterres said, the escalation in violence in Gaza "only perpetuates the cycles of death, destruction and despair, and pushes farther to the horizon any hopes of coexistence and peace".
To really protect their people, Israeli and Palestinian leaders both should stop hostilities, so as to pave the way for a political settlement to the conflict. And both sides ought to work with the international community to implement the "two-state solution", because it is the only way out of the situation and will restore permanent peace in the region.