Actions speak louder than words following Wang-Sullivan meeting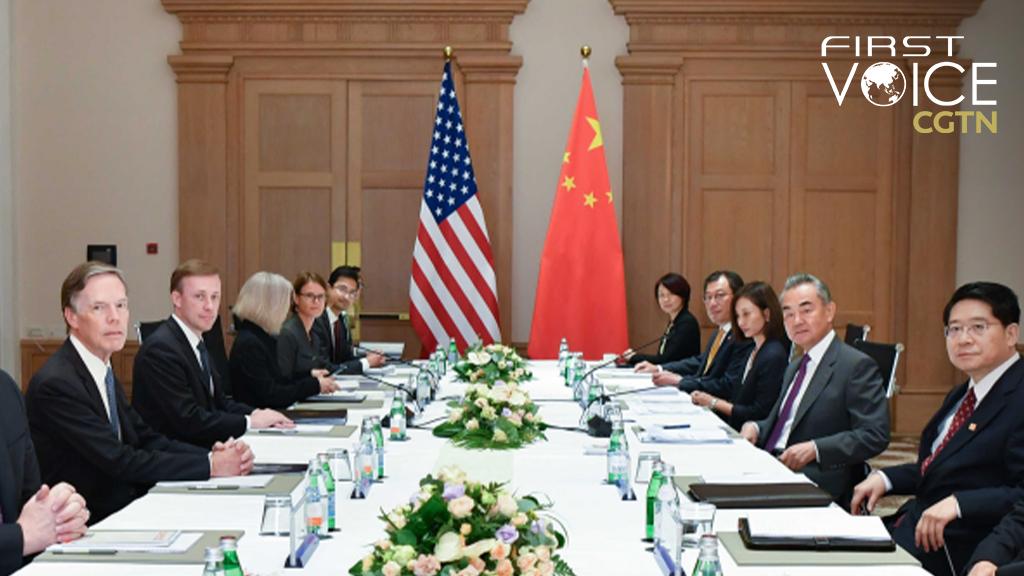 Wang Yi, a member of the Political Bureau of the Communist Party of China (CPC) Central Committee and director of the Office of the Foreign Affairs Commission of the CPC Central Committee, holds several rounds of talks with U.S. National Security Advisor Jake Sullivan in Malta, from September 16 to 17, 2023. [Photo/Chinese Foreign Ministry]
Editor's note: CGTN's First Voice provides instant commentary on breaking stories. The column clarifies emerging issues and better defines the news agenda, offering a Chinese perspective on the latest global events.
Director of the Foreign Affairs Commission of the Communist Party of China Central Committee Wang Yi and U.S. National Security Advisor Jake Sullivan held multiple rounds of meetings in Malta over the weekend. The talks spanning hours were "candid, substantive, and constructive," according to separate statements from Chinese foreign ministry and the White House.
With a variety of economic and security issues at stake including the Taiwan question, export controls, and the South China Sea tensions, both China and the U.S. have shown their will to get relations back onto the right track. The two sides agreed to continue to implement the consensus reached by two heads of state during their Bali meeting last November and maintain high-level exchanges on Asia-Pacific affairs, maritime affairs and foreign policies.
The significance of sound interactions between the world's largest two economies cannot be overstated. As one of the world's most important and complex relationships, Beijing-Washington duo is essential to global peace and prosperity. While China has reiterated on multiple occasions that it is ready to work with the U.S. to manage differences, the Biden administration has also stressed for several times the importance of communications in preventing an unintentional confrontation between the two countries.
It is worth noting that Wang-Sullivan meeting follows a series of communications between high-ranking Chinese and American officials in recent months: U.S. Secretary of State Antony Blinken made his first Beijing trip in June since the Biden administration took office; U.S. Special Presidential Envoy for Climate John Kerry discussed climate cooperation in Beijing in July; U.S. Treasury Secretary Janet Yellen held "direct substantive, and productive" conversations with Chinese counterparts the same month; U.S. Commerce Secretary Gina Raimondo travelled to Beijing for economic and trade issues of common concern last month. Previously, Wang and Sullivan held meetings in Vienna in May.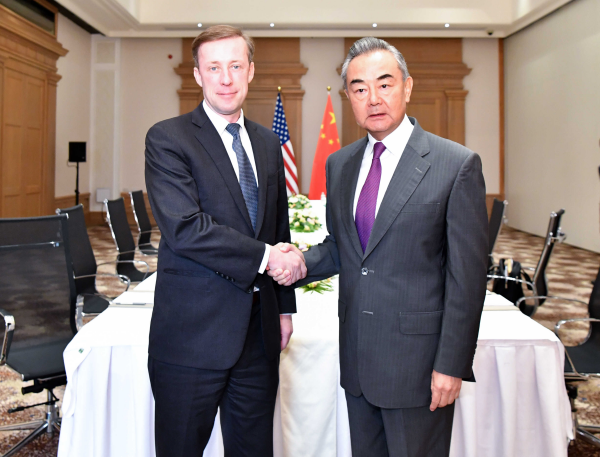 Wang Yi (R), a member of the Political Bureau of the Communist Party of China (CPC) Central Committee and director of the Office of the Foreign Affairs Commission of the CPC Central Committee, holds several rounds of talks with U.S. National Security Advisor Jake Sullivan in Malta, from September 16 to 17, 2023. [Photo/Chinese Foreign Ministry]
The extensive interactions demonstrate the two countries' will to cool tensions, maintain open channels of communications, and responsibly manage their relationship. However, action carries much more weight than words for sound China-U.S. ties. Shouting cooperation, Washington has been straining every nerve to stir troubles for Beijing.
Despite China's warning that the Taiwan question is at the very core of the country's national interests, the Biden administration has repeatedly played tricks to obscure the one-China principle, sending high-level American official to Taiwan, accepting visits by Taiwan independence separatists to the U.S., and pledging several rounds of arms sales to the island – all in an attempt to play the Taiwan card to contain China.
In face of China's technological rise, Washington has resorted to more direct measures to stifle the country's growth. The Biden administration has repeatedly attempted to choke off chip-making supplies and the exports of other high-end technologies to Chinese firms. Despite Raimondo's China visit, there are still hundreds of Chinese firms on U.S. "entity list." Following Huawei – the China's tech firm believed to have most severely impacted by Washington's chokehold – launched its Mate 60 Pro, which has proved China's ability in independent technological research, a group of U.S. House Republicans urged a full crackdown on Huawei and China's Semiconductor Manufacturing International Corp.
Shouting the importance of communications, Washington has cast doubt on its sincerity in responsibly managing ties with Beijing while its provocations have cast a shadow over China-U.S. relations. It is against this backdrop that Wang emphasized in his talks with Sullivan that the U.S. must abide by the three China-U.S. joint communiques. China's development has strong endogenous driving force and follows inevitable historical logic and it cannot be stopped, Wang said.
The U.S. cannot cross China's red line on the Taiwan question and should not deprive Chinese people's legitimate right to development. This is the first lesson Washington should learn if it is sincere in stabilizing and improving ties with Beijing. The Chinese side welcomes Washington's will for talks, and anticipates the Biden administration's sincerity in getting China-U.S. ties onto the right track.