Driving China-US relations: Steering towards mutual benefits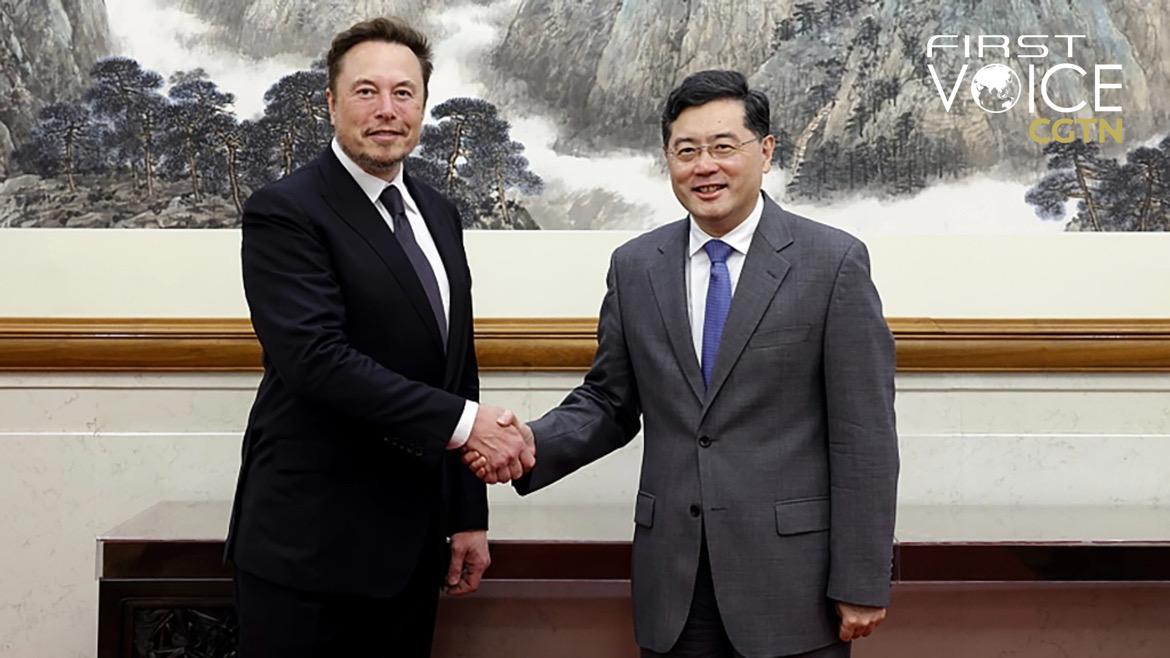 Chinese State Councilor and Foreign Minister Qin Gang (R) meets with Tesla CEO Elon Musk in Beijing, China, May 30, 2023. [Photo/Chinese Foreign Ministry]
Editor's note: CGTN's First Voice provides instant commentary on breaking stories. The column clarifies emerging issues and better defines the news agenda, offering a Chinese perspective on the latest global events.
Tesla Chief Executive Elon Musk's visit to China has become one of the most trending topics on social media platforms. Musk – one of the most-followed persons on Twitter – held intensive meetings with high-level officials from China's foreign, commerce, and industry ministries.
In the meeting with Chinese State Councilor and Foreign Minister Qin Gang, Musk stressed the interests of the U.S. and China are "intertwined like conjoined twins." Qin emphasized a healthy China-U.S. relationship is only possible when the two sides avoid "dangerous driving" and "stepping on the gas" to promote mutually beneficial cooperation.
In 2020, Tesla Shanghai began production of Model Y. At present, the factory has become a key export base for Europe. In 2022, Tesla shipped more than 271,000 Model Y and Model 3 sedans from its Shanghai factory, roughly a fifth of its global sales, according to official statistics. The company announced in April that it will open a new Megafactory in Shanghai that is capable of producing 10,000 Megapacks a year, showing Tesla's confidence in the Chinese market. Musk's trip shows China's importance to the global electriccarmarket, Bill Russo, founder and CEO of strategy and investment advisory firm Automobility, said in an interview with CNBC.
Tesla is not alone in stepping on the gas in trade and economic cooperation with China. Many senior executives including JP Morgan CEO Jamie Dimon, Apple CEO Tim Cook and Starbucks' CEO Laxman Narasimhan have paid visits to China. Their enthusiasm demonstrates the recognition of American firms regarding China's resolute commitment to high-level openness and sincere engagement with foreign companies. It also demonstrates American firms' recognition that U.S. decoupling with China is against the tide and science.
In recent years, the Biden administration has continued the trade war, tariff war, and technology war against China, and has included over 1,200 Chinese companies and individuals on the Entity List under the pretext of "national security" concerns. Despite this, trade between China and the U.S. has remained at historically high levels, and U.S. investment in China continues unabated. In 2022, the bilateral trade in goods between China and the U.S. reached a record high of $691 billion.
A recent survey conducted by the American Chamber of Commerce in the People's Republic of China (AmCham China) showed that 66 percent of American companies operating in China said they would maintain or increase their investment in China over the next two years.
According to a fresh survey conducted by the China Council for the Promotion of International Trade (CCPIT) on May 30, an overwhelming number of surveyed foreign companies hold a satisfactory view ofChina's business environment. Additionally, official estimates indicate that China has experienced a 9.1 percent return on foreign direct investment over the past five years, which far exceeds the 3 percent return in both the U.S. and Europe. Jensen Huang, CEO of U.S. chip giant Nvidia, sums it up well by stating, "There is no other China, there is only one China."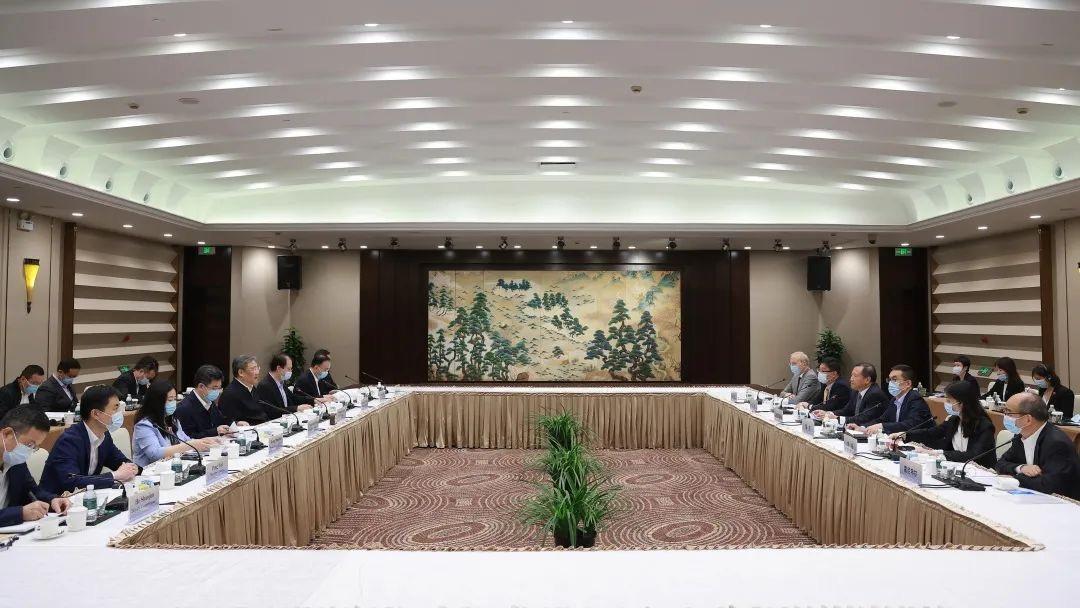 Chinese Commerce Minister Wang Wentao presided over a symposium on U.S.-funded enterprises, Shanghai, China, May 22, 2023. [Photo/Xinhua]
Starting from late March, when Chinese Commerce Minister Wang Wentao held a series of intensive meetings with more than ten executives of American multinational companies, including Steve Mollenkopf, the CEO of Qualcomm, to the end of May, when a symposium for U.S.-funded enterprises was held in Shanghai, China has been actively seeking to listen to the opinions and suggestions of foreign companies, deepening understanding and expanding communication. These efforts have paved the way for foreign investment and operations in China.
However, the U.S. government has continuously misused and expanded the concept of "national security," unjustly suppressing foreign companies, and eroding the foundations for foreign enterprises to operate. The contrast between China's approach and that of the U.S. is stark and striking.
The market has an incredibly sensitive sense of smell. China's tangible actions to implement its fundamental national policy of opening up and its steadfast commitment to promoting high-level openness are attracting an increasing number of foreign companies that are placing their confidence in the Chinese market.
Even if the White House agrees with the "decoupling" rhetoric, people like Elon Musk would not. Given this reality, it remains to be seen whether Washington politicians will continue to ignore the situation or begin to prepare themselves to rectify their misguided decisions and actions while simultaneously accelerating mutual and beneficial cooperation.