Tokyo should search its soul for sowing discord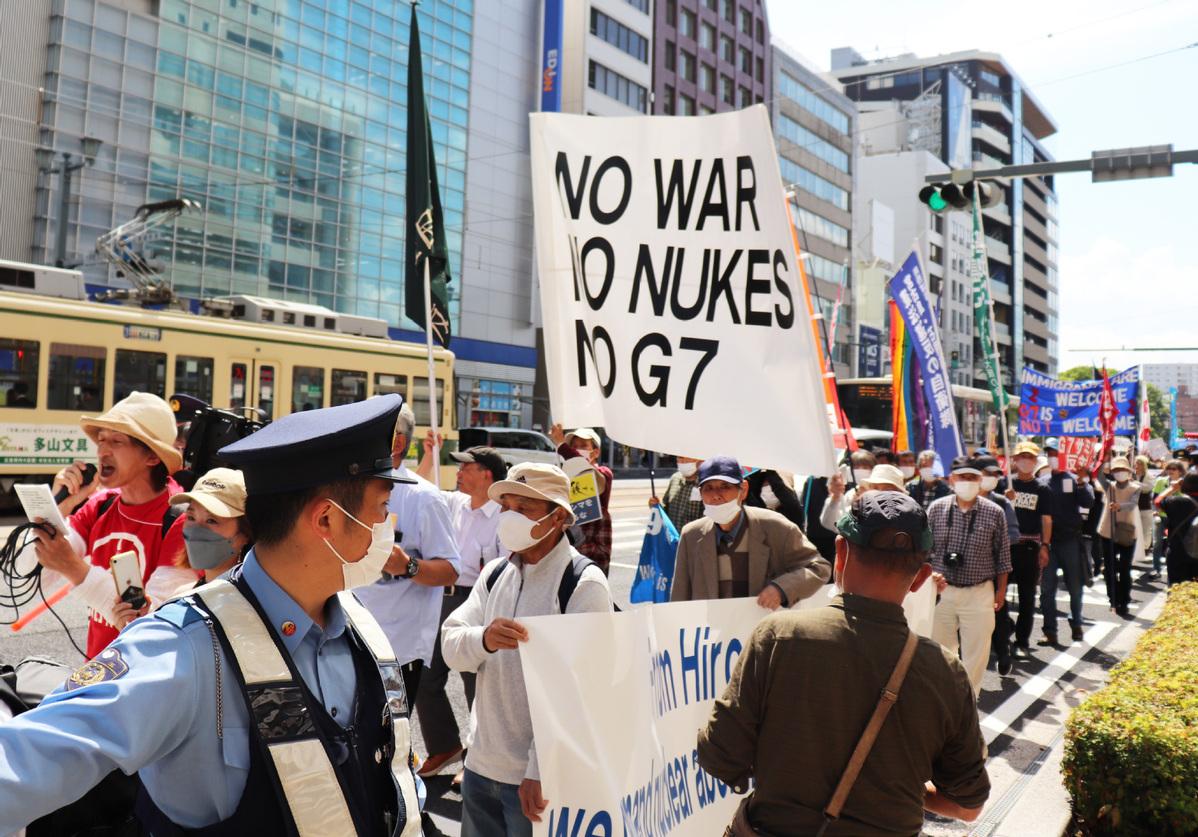 Protesters, holding signs against war, nuclear weapons and the G7, gather in Hiroshima, Japan, on May 14, 2023. [Photo/Xinhua]
This is an editorial from China Daily.
After Chinese Vice-Foreign Minister Sun Weidong summoned Japanese Ambassador to China Hideo Tarumi and lodged solemn representations over the G7 Hiroshima Summit hyping up China-related issues on Sunday, the Japanese embassy issued a readout saying it was "natural" for the G7 to refer to issues of common concern.
It said that the group would continue to do so in the future as long as China does not change its behavior regarding the situations in East China Sea and South China Sea, the Taiwan question, "human rights issues" in Xinjiang and "economic coercion".
It also went further blaming China for "always hindering cultural and people-to-people exchanges between the two countries whenever the atmosphere of Sino-Japanese relations deteriorates".
The statement shows Japan is stubbornly clinging to its mistakes instead of correcting them. Japan needs to draw the right lessons from China's official protest. As Chinese Foreign Ministry spokeswoman Mao Ning said, it needs to stop its wrongdoing, and work with China with sincerity to create an atmosphere conducive to improving bilateral relations. She urged Tokyo to change its ways.
By issuing a statement that only brings disgrace on its own head, Tokyo intended to show Washington it is faithfully playing the role assigned to it.
If a country is treated as a threat for just defending its own sovereignty, security and development interests, and is not allowed to counter efforts to undermine them, what kind of "rules-based order" is Tokyo helping Washington to build?
In a move showing the degree to which it is at the US' beck and call, Japan restricted the exports of 23 kinds of semiconductors on Tuesday citing national security reasons for the action. With such actions being taken by the US and its allies, Washington hopes to exclude China from the global supply chains and impede the development of China's high-tech sector.
That's just the latest example of Tokyo blindly doing Washington's bidding, ignoring the global consequences. The China-related parts of the series of documents the G7 summit released, particularly the G7 Leaders' Joint Communique, indicate that it will probably not be the last.
China has not harmed the sovereignty, security and development interests of the G7 countries, instead it has shared with them its development dividends and business opportunities.
In supporting Washington's strategy to establish a "free and open Indo-Pacific", whereby Washington will effectively be the issuer of letters of transit, Tokyo is undermining the region's stability from which it also benefits.
China supports friendly relations between the two countries in all areas, including people-to-people exchanges, which are the cornerstone for peaceful and stable relations.