Shared commitment to openness can ensure bright future for world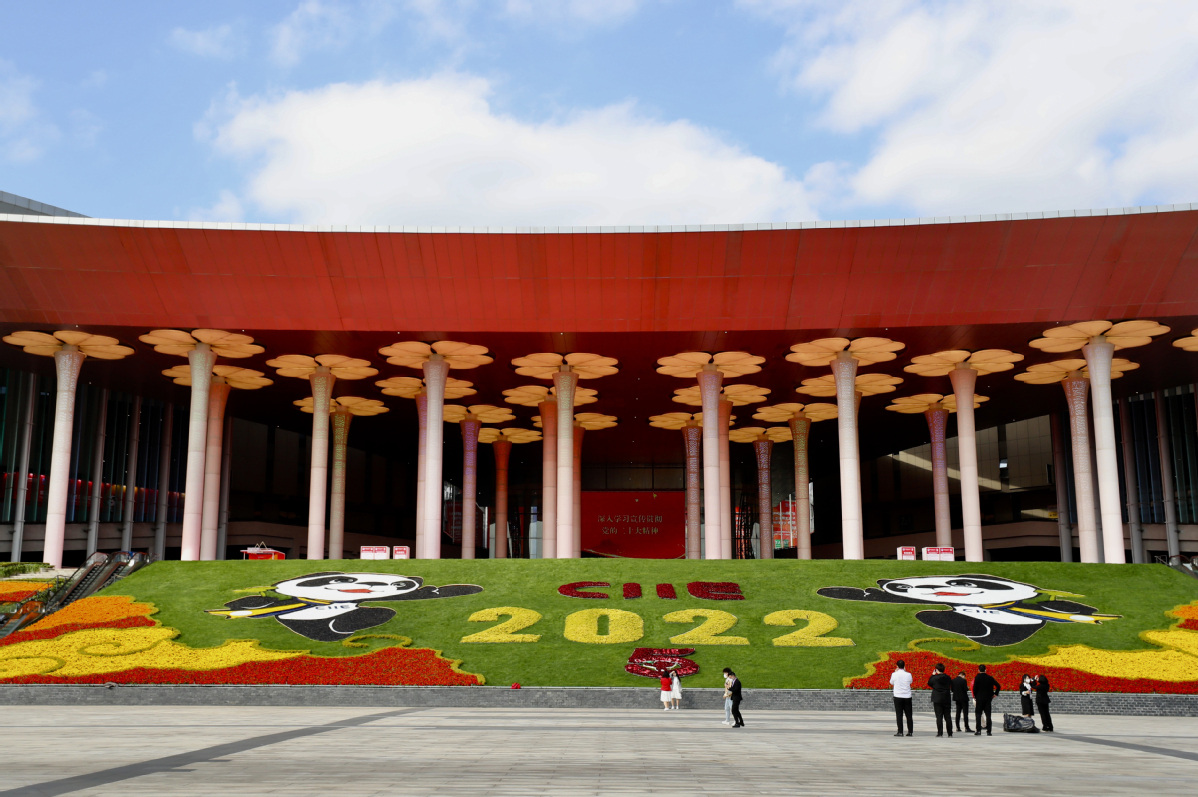 People take photos of the flower decorations at the entrance of the National Exhibition and Convention Center in Shanghai, Nov 4, 2022. [Photo by Zhang Wei/China Daily]
This is an editorial from China Daily.
The fifth China International Import Expo opened in Shanghai on Friday, with President Xi Jinping delivering the opening remarks. That he has done so at all five of the expos that have been held since 2018 conveys the great significance the country attaches to the event.
The CIIE has developed into an international platform and global public good promoting economic and trade cooperation and a major stage for multilateralism.
As the first major international expo the country has hosted after the conclusion of the 20th National Congress of the Communist Party of China, the fifth CIIE is of great significance as it sends a clear and consistent signal to the world that China will not close its door to the outside world, but will only open it even wider. In light of this, the ongoing CIIE can be considered a weathervane indicating that China remains steadfast in upholding openness, inclusiveness and mutual benefits.
China has pursued a more proactive strategy of opening-up over the past five years by constantly shortening its negative lists, optimizing its customs clearance system, and adjusting its regulations on and supporting policies for foreign-funded ventures, and these constitute a strong foundation for the success of the expo. More importantly, it will continue to steadily expand its institutional opening-up with regard to rules, regulations, management and standards so as to improve the level and quality of trade and investment cooperation.
As President Xi said in his remarks on Friday, the decision to stage the CIIE each year has been for the very purpose of expanding China's opening-up and turning China's enormous market into opportunities for the world. Today, the CIIE has become a showcase for China's new development paradigm, a platform for high-standard opening-up, and a public good for the whole world.
Its popularity reflects the common voice of most of the international community that protectionism and unilateralism have no place in the world market.
A total of more than 1,500 new products, new technologies and new services were released at the previous four expos. This year, nearly 3,000 exhibitors from 127 countries and regions are taking part in the event, markedly more than the expo last year.
With a population of over 1.4 billion and a middle-income group of over 400 million, China imports about $2.5 trillion of goods and services every year, making it the second-largest consumer market in the world. No major economies or multinational corporations can ignore the attraction and potential of the Chinese market.
As Xi said in his opening remarks, a shared commitment to openness is essential to meet development challenges, foster synergy for cooperation, build momentum for innovation, and deliver benefits to all. He emphasized that openness is the intrinsic path toward global prosperity and development, while stressing that the path is unfolding before us and a brighter future beckons beyond.