The importance of Scholz's visit
By Thomas O. Falk
If Germans have learned anything from their first year under Olaf Scholz, it's that the current chancellor's admiration for China is not comparable to that of his predecessor, Angela Merkel. His visit to Beijing could change that.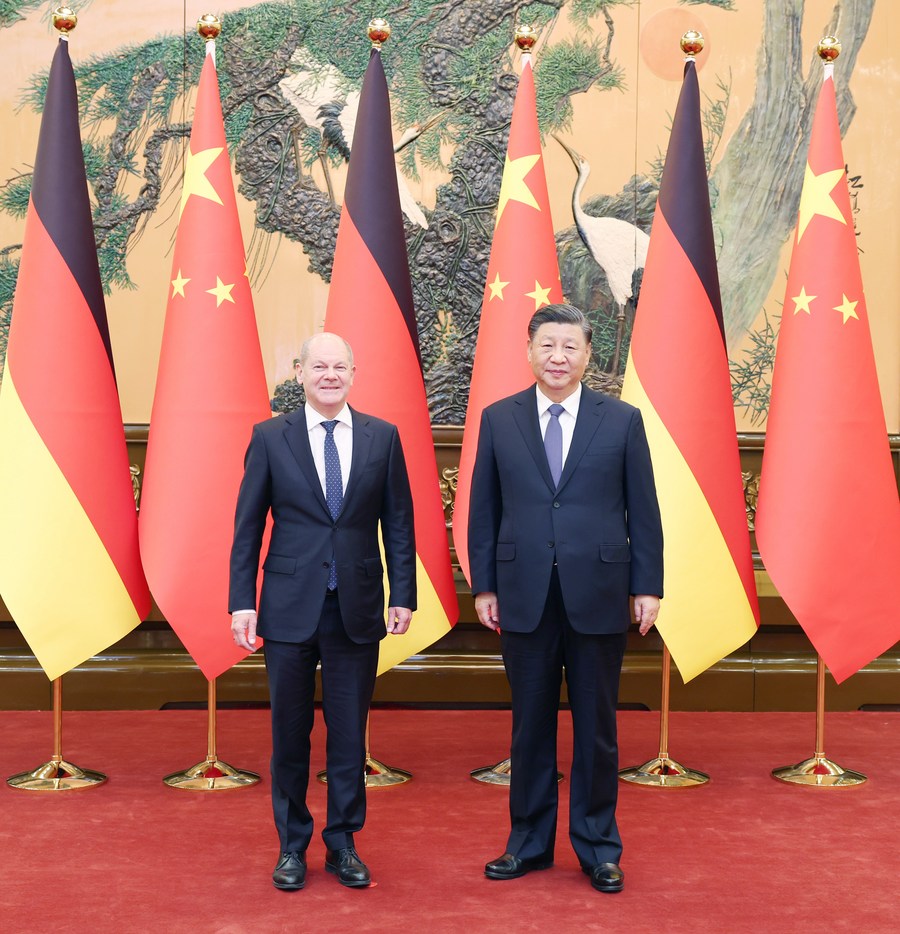 Chinese President Xi Jinping meets with German Chancellor Olaf Scholz on his official visit to China at the Great Hall of the People in Beijing, capital of China, Nov. 4, 2022. [Photo by Yao Dawei/Xinhua]
Although Germany has had a new government since December 2021, no member of the federal government has visited China to date, neither the chancellor nor the foreign minister, as well as the economics minister. It's more striking since Merkel had made frequent trips while serving as the chancellor. She visited the country 12 times during her 16 years in office in order to improve China-Germany bilateral relations.
When Scholz met with Chinese President Xi Jinping on November 4, it demonstrates that Berlin seeks continuity of diplomacy with China. It's an opportunity to address misunderstandings and to expand on further cooperation.
Misunderstandings can quickly arise since the new German government is in power. For the first time, Germany has formally declared China as a "systemic rival," and various ministers within the government, including Foreign Minister Annalena Baerbock, who has repeatedly lectured Beijing over its own affairs.
It goes without saying that the Chinese government is not too impressed with her overbearing actions.
Shortly before his arrival in China, Scholz wrote an article for the "Frankfurter Allgemeine Zeitung" explaining that today's China is no longer the same as it was five or 10 years ago. Therefore, "the way we deal with China must also change." Meanwhile, Scholz emphasized that he did not want to ignore "difficult issues" when speaking with the Chinese leadership.
But whether or not Scholz has achieved his aims still remains a mystery. One can only hope that the Scholz's article served to quiet the critics, while his pragmatism towards China comes at the most inopportune time.
His visit should focus on improving German-Chinese relations while injecting new momentum for economic cooperation between the two countries.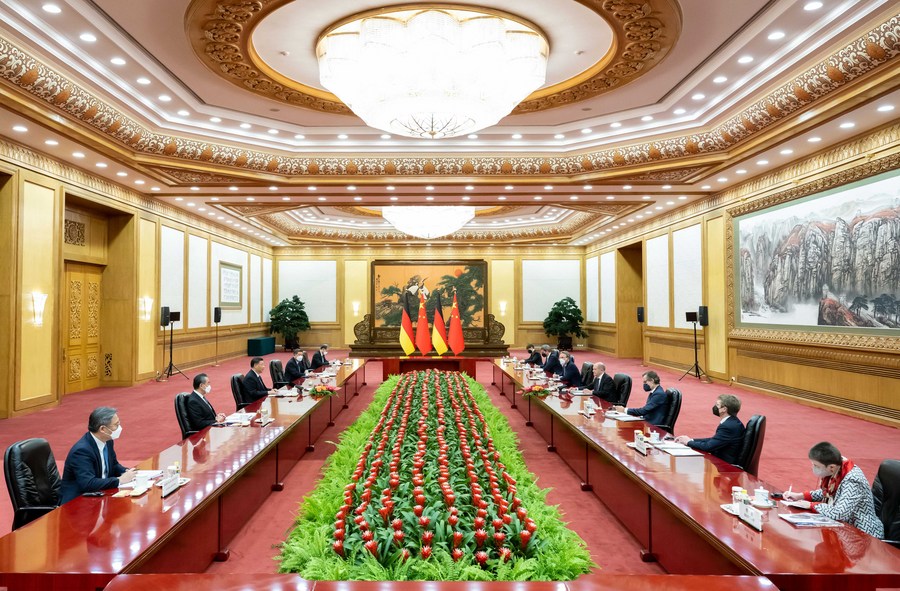 Chinese President Xi Jinping meets with German Chancellor Olaf Scholz on his official visit to China at the Great Hall of the People in Beijing, capital of China, Nov. 4, 2022. [Photo by Zhai Jianlan/Xinhua]
Additionally, a large entourage of German business leaders had accompanied the chancellor. Among them are the CEOs of German car manufacturers, chemical and pharmaceutical companies. Doing business in China has never been as crucial as today.
Volkswagen, for example, generates an estimated 40 percent of its sales and half of its profits in China.
Scholz argues that decoupling Germany from the Chinese economy is "the wrong answer." His coalition partners hold a similar viewpoint; nobody wants to break off relations with the country. Germany and China remain economically dependent on each other.
Hence, the criticisms over Scholz's trip to China are unjustified. In the current crisis situation, which is characterized by looming energy shortages and rising inflation, one should not spark diplomatic tensions or cancel a planned visit to China. It's common for a German chancellor to pay an inaugural visit to one of the most important economic partners in the world.
In his pragmatic and sober manner, Scholz could have what it takes to negotiate the criticisms that have arisen over German-Chinese ties in Berlin. Accordingly, he is wise to maintain dialogue despite simmering bilateral tensions.
The author is a London-based political analyst and commentator.