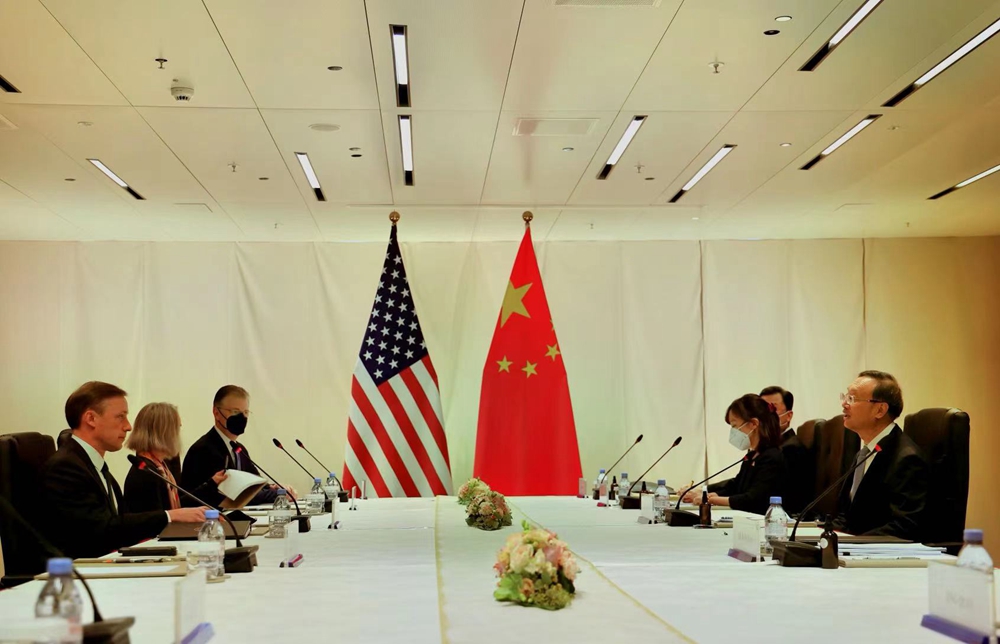 Yang Jiechi (R), a member of the Political Bureau of the Communist Party of China Central Committee, meets with U.S. National Security Advisor Jake Sullivan, October 6, 2021. [Photo/Xinhua]
By Andrew Korybko
Yang Jiechi, a member of the Political Bureau of the Communist Party of China (CPC) Central Committee, and U.S. National Security Advisor Jake Sullivan met in Switzerland on October 6. Their talks were fruitful and can be interpreted as a course correction in China-U.S. relations.
More meetings between senior officials are planned, as is a virtual summit between Chinese President Xi Jinping and U.S. President Joe Biden sometime before the end of the year. This positive outcome arrived right in the nick of time as relations continued to deteriorate.
Last month was full of American provocations against China. Another U.S. warship sailed through the South China Sea prior to the Australian, UK, and U.S. leaders unveiling a new trilateral alliance, AUKUS. Then came Biden's speech at the UN General Assembly where he attempted to once again meddle in China's internal affairs and hype up his country's perceived competition with it in order to promote his Build Back Better World (B3W) concept. This was followed by the first-ever in-person summit of the Quad.
Nevertheless, it was their leaders' phone call earlier that month that set the basis for the Yang-Sullivan meeting on Wednesday and was referenced by both diplomats afterward. This was their representatives' first face-to-face meeting since their last one in Alaska in March. The White House's readout emphasized both sides' "interest in working together to address vital transnational challenges, and ways to manage risks in our relationship." Although some key differences remain between them, that passage is pivotal to reflect on.
No pair of countries will ever completely see eye to eye on everything, especially not two major powers like China and the U.S. which are still officially in a trade war that has yet to be resolved despite ongoing negotiations to that end. The best that can be hoped for is that they responsibly manage various risks. That thus far hasn't been happening in practice on America's side as evidenced from the earlier list of provocations from last month. Nevertheless, some U.S. strategists might finally be having a change of heart when it comes to China.
There's no denying that internal crises in the U.S. are intensifying. Not only has COVID-19 continued to kill hundreds of thousands of Americans, but also the country's economy is still seriously struggling and there's prevailing uncertainty over the outcome of its ongoing debt crisis at the time of writing. Already unprecedented partisan divisions have grown ahead of next year's midterm elections all the while the country ponders the consequences of its chaotic withdrawal from Afghanistan less than two months ago.
These internal crises, along with the climate one which is human's most pressing threat and requires close cooperation with China in order to sustainably resolve, inspired a visible shift in U.S. policy.
Huawei Chief Financial Officer Meng Wanzhou was allowed to return home to China from Canada late last month after an agreement with the U.S., which earlier ordered its neighbor to illegally detain her as a pawn in its unprovoked trade war. Observers welcomed this development as an icebreaker in their bilateral relations.
It showed that the U.S. is beginning to realize that it cannot aggressively impose its will upon China. Such an outdated and zero-sum policy is doomed to fail. Sincere talks aimed at responsibly managing the risks in their relationship are the only solution. This is true not only on the trade front, but the military one as well.
The U.S. defeat in Afghanistan prompted a soul-searching moment for the American establishment which is finally understanding the futility of some of its former policies.
A lot of work still remains to be done on tangibly improving China-U.S. relations, but the Yang-Sullivan meeting showed that both sides have the political will to make progress. The next senior-level interactions between their countries will lay the basis for their presidents to reach a more solid understanding on everything during their upcoming virtual summit.
It's important for the U.S. to remain on this positive course for pragmatism's sake since straying off the path once again would endanger global stability and worsen its own internal crises.
The author is a Moscow-based American political analyst.