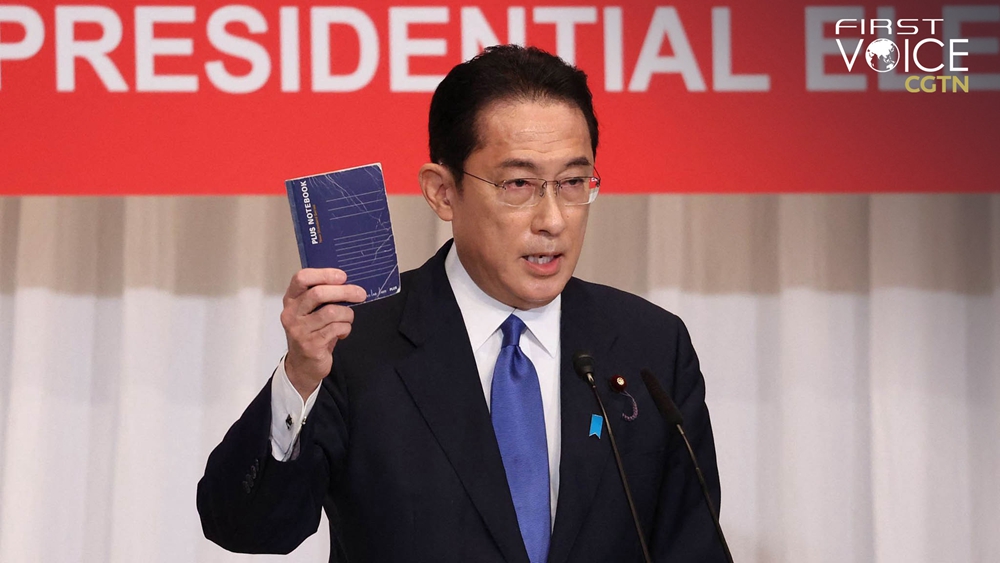 Fumio Kishida. [Photo/Xinhua]
Editor's note: CGTN's First Voice provides instant commentary on breaking stories. The daily column clarifies emerging issues and better defines the news agenda, offering a Chinese perspective on the latest global events.
Fumio Kishida was elected leader of the Liberal Democratic Party of Japan (LDP) on Wednesday, winning a tight race to succeed Yoshihide Suga as Prime Minister. Kishida, who served previously as foreign minister, is seen as a moderate contender on a competition that turned into a shouting match over hawkishness on China, with Tokyo having hardened its strategic position against Beijing in recent months owing to increased pressure from Washington.
Despite this, Kishida's victory was the best possible option for Beijing compared to his rivals, but the question remains: can ties between the two countries recover?
In line with American preferences, Japan has positioned itself as a military and strategic competitor against China, an approach which accelerated under Suga's legacy as Prime Minister. Tokyo has, in the past few months, reaffirmed its support for separatism in China's Taiwan and sought to incorporate the island into their own national strategy, whilst cooperating more strongly with Washington via the Quad.
Despite the enormous China-Japan economic relationship, this has sent ties between the two on a dangerous trajectory.
Kishida is not likely to change this new status quo radically given Japan's own position, but nor is he about to drastically make it worse. This provides some opportunities.
Kishida hails from the moderate faction of the Liberal Democratic Party (LDP) that are more restrained when it comes to China. As described by Reuters, Kishida "hails from one of the LDP's more dovish factions and is seen as lukewarm about revising the pacifist constitution." Representing Hiroshima has also made him more reserved about military aggression and nuclear weapons.
This contrasts to the more hawkish position pursued by Suga's faction. An article in The Diplomat this month quotes, "Kishida would look to carefully balance the Sino-Japanese relationship and the Japan-U.S. alliance."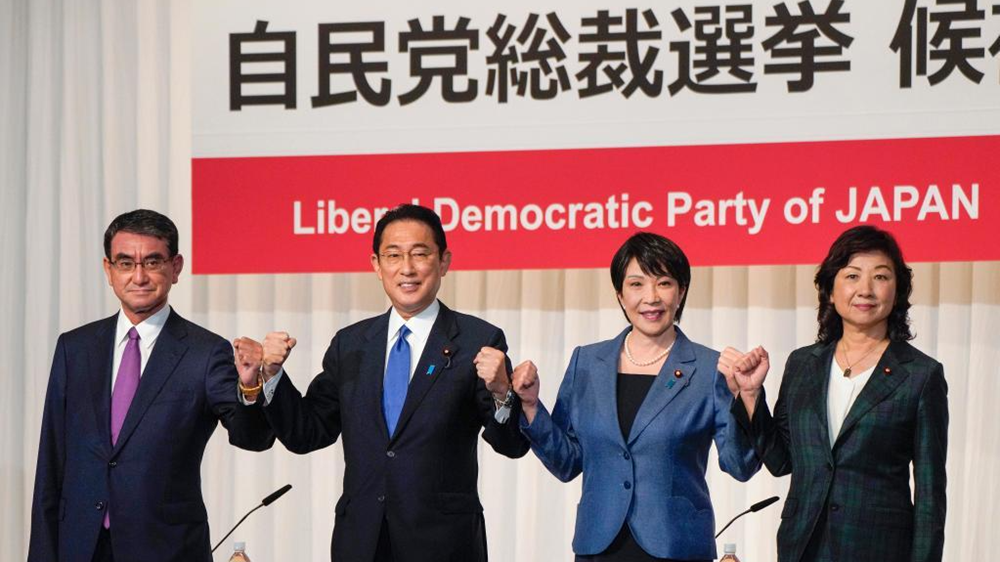 Japan's ruling Liberal Democratic Party (LDP) leadership election candidates (from L to R) Taro Kono, Fumio Kishida, Sanae Takaichi and Seiko Noda pose for a photo prior to a joint press conference at the party's headquarters in Tokyo, Japan, September 17, 2021. [Photo/Xinhua]
Of course, Kishida made a number of tough comments regarding China in the leadership election. This is due to the problem of Japan's current policy, and the domestic political consideration of lapping up nationalist fervor in order to gain support.
It seems unlikely that Kishida will take drastic risks or seek to create a crisis in relations between Tokyo and Beijing. This leaves room for some moderation and improvement after a year of provocations on behalf of Suga's government.
An immediate gesture Kishida could make in order to improve relations with China would be to facilitate dialogue in China's application to join the Comprehensive and Progressive Agreement for Trans-Pacific Partnership (CPTPP) agreement. This should not be discarded on geopolitical considerations. The prospect of increased access and opportunity in China's markets for Japanese businesses is in the national interest of Japan and offers an opportunity to rebalance the relationship.
In accordance with this, Tokyo should distance itself from the Democratic Progressive Party (DPP)'s bid to try and utilize the agreement to promote Taiwan separatism, which has been promulgating tensions. If Tokyo-Beijing relations are to improve, Japan must immediately desist from pressing against this red-line in the way Suga has.
Kishida's election as leader comes at a heated time, and in the midst of an anti-China shouting match. But it still provides more opportunities for China-Japan relations than downsides. Both countries will continue to have considerable disagreements both past and present, but that does not mean they shouldn't learn to work and cooperate with each other on areas of common interest.
This is the time for a course correction in China-Japan relationship, one which moves away from pushing against red-lines, moves away from military adventurism and pushes for some win-win results.
On that premise, there could not have been a more suitable outcome for China.