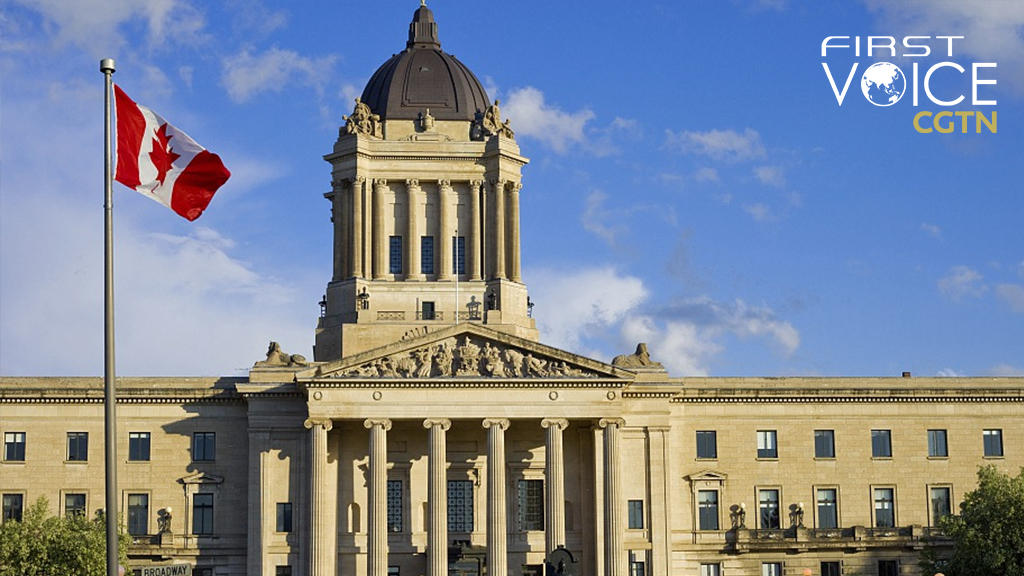 Editor's note: CGTN's First Voice provides instant commentary on breaking stories. The daily column clarifies emerging issues and better defines the news agenda, offering a Chinese perspective on the latest global events.
The release and return of Meng Wanzhou to China breaks a three-year impasse that has plagued relations between Beijing and Ottawa. The Huawei CFO was subject to trumped up, politicized charges from a U.S. administration that goaded Canada into doing its bidding to the detriment of the China-Canada relationship.
What now? The drama of course speaks a truth that has been known a long time, that Canada is overtly subservient to the United States in its own international relations, even when it is not in its national interests to do so. It has emulated Washington's strategic hostility towards China, and left analysts questioning whether even after Meng's release, relations might remain stagnant in the cold.
Canada doesn't have a China problem so to speak, it has an American problem.
China and Canada have good reasons prior to be on friendly terms. Canada is home to one of the largest overseas Chinese diasporas in the world, a total of 1.77 million, or 5 percent of the total population. There is no other country in the English-speaking world that holds such a population size. The two countries were also import bilateral trade partners.
Yet by weaponizing Huawei and Meng, the U.S. sought to articulate China as an enemy of Canada and Ottawa's liberal, pro-U.S. establishment inevitably fell into this trap as Beijing moved to defend its own interests in the wake of a prominent figure being arrested at America's request. Canada and its apologists repeatedly insisted that Meng's arrest was conducted "in line with the rule of law," but the U.S. had no commitment to the rule of law whatsoever. Former President Donald Trump openly stated that she was a bargaining chip.
China had no reason to believe that the arrest of Meng was being conducted in good faith, yet despite this Canada continually insisted it had "done nothing wrong" and failed in every single instance to criticize Washington's behavior in causing this international incident. They wholesale bought into the "China threat" mantra instead.
The United States, in order to legitimate its own broader geopolitical agenda against China, needed a justification to make countries "take sides" with it when they would not otherwise do so. And Canada took the side.
As a result, if relations between China and Canada are to progress from this impasse, Canada must pursue a path of self-reflection and soul-searching. If it decides to take on China solely on behalf of the United States as it did with Meng Wanzhou, it will lose – both in the battle and in the overall international relations. It has nothing to win from being Washington's puppet. If Canada chooses to pursue a more independent foreign policy based on balance and neutrality, with respect for China's interests and people, both parties can prosper and move forwards.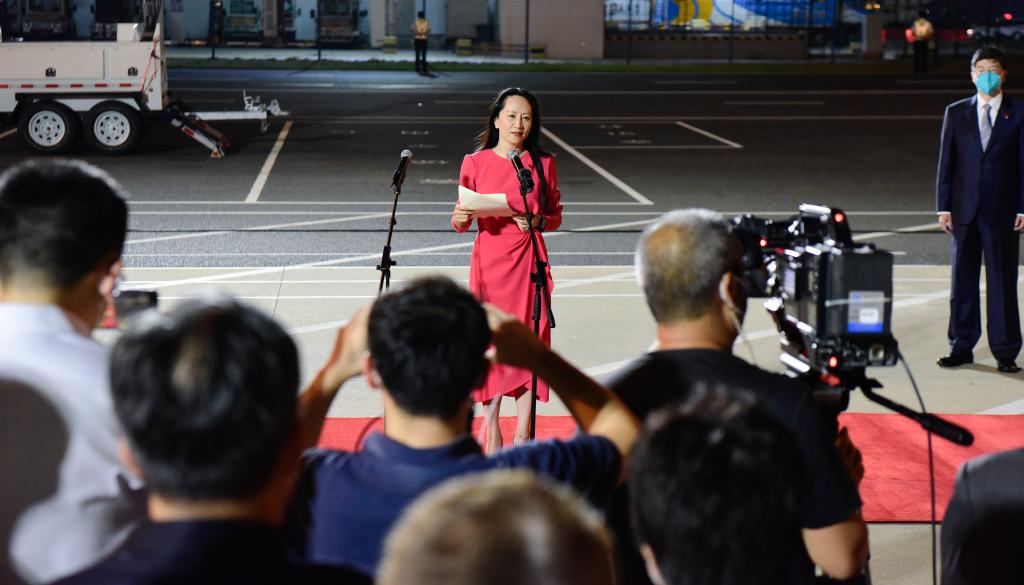 Meng Wanzhou, Huawei's chief financial officer, makes a brief speech at the Shenzhen Bao'an International Airport in the southern Chinese city of Shenzhen, September 25, 2021. [Photo/Xinhua]
Justin Trudeau's re-election will also take the heat off him for sometime to appear "tough" against China. Despite this, there are some other tests which lay ahead too in the near future. These will include Ottawa handles the process of China's application to join the Comprehensive and Progressive Agreement for Trans-Pacific Partnership. Will Canada support China's entry? Or will it seek to block it? Canada is welcome of course to seek negotiations for its own economic interests and terms for itself, but should avoid tapping into U.S.' geopolitical fervor. In this case, it should also uphold its commitment to the one-China policy regarding the DPP's attempt to push Taiwan away from the Chinese mainland.
The path forwards for China-Canada relations is all about the decisions Canada chooses to make. The Meng Wanzhou saga is ultimately the product of a mistake Canada made in being too hasty and too uncritical in appeasing the demands of the United States. The failure of Canada's media and political classes to acknowledge this is the biggest problem their country's foreign policy faces. Canada allowed America to speak for itself repeatedly. A sovereign country shouldn't kowtow to another.
Improvement rests upon Canada's willingness to self-reflect, to question its relationship to America more and to stop selling itself out as an instrument for Washington's games without any considerations for the consequences. The China-Canada relationship must exist as a fair bilateral relationship between two countries, not a "trilateral" one where Ottawa just sits as a surrogate of Washington.