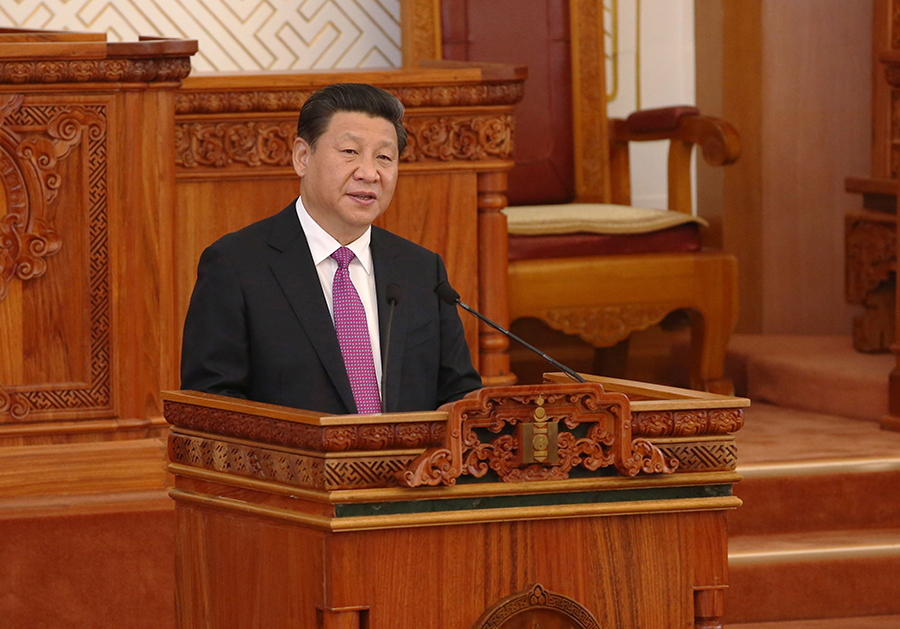 Chinese President Xi Jinping delivers a speech at the State Great Hural of Mongolia, the country's parliament, in Ulan Bator, Mongolia, Aug. 22, 2014. [Photo by Pang Xinglei/Xinhua]
Speech by Chinese President Xi Jinping
At the State Great Khural of Mongolia
Ulan Bator, August 22, 2014
Your Excellency President Elbegdorj and Mrs. Elbegdorj,
Your Excellency Chairman Enkhbold,
Your Excellency Prime Minister Altankhuyag,
Distinguished Members of the State Great Khural,
Ministers,
Distinguished Guests,
Ladies and Gentlemen,
Dear Friends,
Good Morning! It is a great pleasure to meet you here at the State Great Khural of Mongolia. At the outset, please allow me to extend, on behalf of the Chinese government and people and in my own name, sincere greetings and best wishes to all of you and, through you, to the entire people of Mongolia!
Mongolia was the first country I visited as Vice President of China in 2008. As soon as I set foot on the beautiful land of Mongolia, I was deeply impressed by its naturally endowed abundance. Natsagdorj, a well-known Mongolian writer, depicted a poetic and beautiful scene of Mongolia in his poem My Native Land: High stately mountains of Khentei, Khangai and Soyon; Forests and thick-wooded ridges-the beauty of the North; The Great Gobi desert-the spaces of Menen, Sharga and Nomin; And the oceans of sand deserts that dominate the South; This, this is my native land, The lovely country-my Mongolia.
Six years later, I am here again. What I see is a thriving country dynamic and full of vitality. With heartfelt joy, I wish to extend our sincere congratulation to you, the brave and hardworking people of Mongolia, on your achievements.
Yesterday, I had talks with President Elbegdorj. Before I came here, I met with both Chairman Enkhbold and Prime Minister Altankhuyag. Mongolian leaders and I have had an in-depth exchange of views on our bilateral ties as well as issues of shared interest. We have reached broad consensus. The two sides have agreed to elevate China-Mongolia relations to a comprehensive strategic partnership and issue a joint statement. We have signed more than 20 cooperation documents covering political, economic, trade and cultural fields. I am happy with the outcomes of my visit. And I have greater confidence in the relations between China and Mongolia.
Ladies and Gentlemen,
Dear Friends,
Just as distance tests a horse's strength, time will reveal a person's sincerity. China and Mongolia officially established diplomatic relations 65 years ago. Mongolia was one of the first countries to recognize New China and we will always remember the support you have rendered us. Let me reiterate that no matter how the international and regional situation may evolve, China will always follow the spirit enshrined in the friendship and cooperation treaty between China and Mongolia, respect Mongolia's independence, sovereignty and territorial integrity and the Mongolian people's independent choice of development path. This is a basic and long-term policy that we will uphold. Sixty years are a cycle according to the Chinese zodiac.
We are pleased to see that China-Mongolia ties, now in their second cycle, are moving further ahead. The past two decades, in particular, have witnessed frequent exchange of high-level visits and increased political mutual trust. Practical business ties have grown fast. China has, for many years in a row, remained Mongolia's largest trading partner and source of investment. In the year 2013 alone, more than 1.3 million visits were made between China and Mongolia, with more than 1 million from Mongolia to China. No doubt, the establishment of China-Mongolia comprehensive strategic partnership, a natural development at a most opportune time, has ushered the bilateral ties into the best development period in history.
China and Mongolia are friendly neighbors sharing common mountains and rivers and both are important countries in the region. This year marks the 65th anniversary of China-Mongolia diplomatic ties, 20th anniversary of the amendment to the friendship and cooperation treaty between the two countries, and the year of China-Mongolia friendship and exchanges. The two sides should take the advantage of the establishment of our comprehensive strategic partnership and work together to bring China-Mongolia ties to an even higher level.
First, China and Mongolia should be good neighbors that support each other. Whatever changes may take place in the international landscape, our two countries should always keep in mind the overall interests of the bilateral relations. We should think more for each other from the perspective of strategic partners and firmly support each other on issues involving our respective core interests or major concerns, such as sovereignty, security and territorial integrity.
Our two countries should maintain the momentum of exchanging high-level visits. It is beneficial for leaders of the two countries to keep regular contacts through various channels so as to enhance strategic communication and political mutual trust. I would like to invite President Elbegdorj to a dialogue meeting on connectivity to be held during the APEC Economic Leaders' Meeting in China in the coming November. China looks forward to Chairman Enkhbold's official visit to China this year. Our two countries have agreed to put in place a regular exchange mechanism between our legislatures and a strategic dialogue program between the two foreign ministries, and enhance our cooperation in national defense within the framework of defense security consultation.
China supports Mongolia in joining the APEC and actively participating in East Asia cooperation. We support Mongolia in engaging in the East Asia Summit and China-Japan-ROK cooperation in an appropriate manner and Mongolia's initiative of Ulaanbaatar Dialogue on Northeast Asian Security. We are ready for closer cooperation with Mongolia in the United Nations, Asia-Europe Meeting, Conference on Interactions and Confidence-Building Measures in Asia, and the Shanghai Cooperation Organization.
China is also ready to increase cooperation with Mongolia in matters covered by the Silk Road Economic Belt project. China is positive and open to Mongolia's initiative for passage to grassland. Our two countries may step up cooperation for common development and mutual benefit through new platforms such as the Asian Infrastructure Investment Bank.
Second, China and Mongolia should become good partners in win-win cooperation. Just as we say in China "one gets a better view of the rising moon at a waterfront pavilion or a favorable position", the geographical proximity and economic complementarity between our two countries - China's market, capital, technology and transportation corridors and Mongolia's rich natural endowment, promise great opportunities for closer cooperation between us. Last year, China's imports and exports totaled US$4.16 trillion. For the coming five years, China will import over US$10 trillion of goods and make outbound investment worth over US$500 billion. Last year, about 100 million Chinese tourists travelled abroad, and the number is estimated to top 150 million annually by 2020. Sustained development in China will offer Mongolia and other cooperation partners a big market and enormous opportunities.
During my current visit, the issues of transit transport and sea access that Mongolia had long sought to solve have been properly resolved. Our two countries have established a cooperation committee on minerals, energy and connectivity, and signed an Outline for Midterm Development of China-Mongolia Economic Cooperation, whose goal is to increase the two-way trade to US$10 billion by 2020. We have had an in-depth discussion and reached consensus on port and railway cooperation. We have decided to expand bilateral currency swap to RMB15 billion and agreed to study the possibility of establishing a cross-border economic cooperation zone spanning China's Erenhot and Mongolia's Zamyn-Uud. We will conduct full cooperation in the deep-processing of minerals and development of new energy, electricity, agriculture and animal husbandry, environmental protection and other areas. These new cooperation programs will surely deliver real benefits to our two peoples and enhance their well-being.
Third, China and Mongolia should be good friends who will visit each other frequently. Travel is easy on familiar roads, and conversation is easy between friends. In my talks with President Elbegdorj yesterday, we agreed to encourage more people-to-people exchanges through greater visa facilitations, and increase exchanges between the youth, media and other sectors of the two countries so as to create a more favorable social environment and foster a culture of China-Mongolia friendship.
China welcomes more Mongolian citizens to China for purposes of study, travel, business or medical treatment. In the coming five years, China will offer training opportunities for 1,000 Mongolians, provide an extra 1,000 full government scholarships to Mongolia, and train 500 Mongolian officers and soldiers. We will invite 500 Mongolian youth and 250 Mongolian journalists to China and offer free of charge 25 popular Chinese movies and TV plays that have been translated into Mongolian language. I believe all these will help boost the mutual understanding and friendship between our peoples.
Ladies and Gentlemen,
Dear Friends,
At present, the Chinese people are working towards the "two centennial goals", which is to complete the building of a moderately prosperous society in all respects by 2020 and build China into a modern socialist country that is prosperous, democratic, culturally advanced and harmonious by the middle of the century. These two goals together make up the Chinese dream of the great renewal of the Chinese nation. At the same time, the people of Mongolia are also committing themselves to advancing reform and achieving economic and social development. In other words, there is also a Mongolian dream in the hearts of the Mongolian people.
China's ongoing reform, opening-up and modernization process will provide catalyst and impetus for the growth of Mongolia and other neighboring countries. This makes it possible for us to effectively align our respective development strategies for the benefit of common development and prosperity.
On the other hand, we are soberly aware that it is not easy to realize the "two centennial goals" in China, a country with a population of over 1.3 billion and uneven development. It is going to be a long and arduous process that requires a long-term commitment. In the meantime, to realize these two goals, we need a sound neighboring environment. Without a peaceful neighborhood, we will not be able to keep our mind on our goals and manage our own affairs well.
As China grows, some people in the world have begun to doubt how China would go about. They are worried that a stronger China might become a threat to them. This is either a misunderstanding or a misinterpretation of China's intention.
China has publicly stated on numerous occasions that it will stick to the path of peaceful development and encourage all countries to pursue peaceful development. China will take up more international responsibilities, work with other countries to uphold human conscience and international justice, and stand for justice in regional and international affairs. China will continue to handle differences and disputes peacefully through dialogues and consultations with utmost sincerity and patience.
China has also publicly stated on numerous occasions that it respects the right of people of all countries to independently choose their path of development, and that it will never impose its will on others, nor will it allow others to impose their will on the Chinese people. China stands for peaceful solutions to international disputes, opposes hegemonism and power politics in all forms, and will never seek hegemony or expansion.
The Chinese nation is a peace-loving nation, and the Chinese culture values harmony. For over 5,000 years of its civilization, the Chinese nation has unswervingly advocated and promoted the ideas of peace, amity and harmony. For generations, the Chinese people have strongly believed in the traditional ideas that peace is the most precious, that one should be friendly to others and that one should not do onto others what he does not want others do unto him. All these ideas have taken deep root in the heart of the Chinese people and shaped their character and behavior. Since ancient times, the Chinese nation has actively engaged itself in exchanges and trade with foreign countries, instead of external aggression or expansion. We have committed ourselves to the patriotic cause of defending our homeland, instead of colonialist pursuit of territorial expansion. The modern history of China is a humiliating and tragic record of miserable sufferings, and at the same time, it also captures the epic struggle of the Chinese people to resist foreign aggression and realize national independence. Emerging from untold suffering, the Chinese people cherish the value of peace, and will never want to see other nations go through the same pains it endured in the past. The Chinese people want, more than anything else, to live in peace and harmony with the people of other countries, and work with them to promote, defend and share peace together.
The experience of China's reform and opening-up over the past 30 years and more has proved that peaceful development is a strategic choice that suits China's own national conditions, social system and cultural traditions. It conforms to the trend of the times, and serves the fundamental interests of China. It also meets the interests of China's neighboring countries and those of all countries in the world. So there is no reason whatsoever to change this policy.
China has always regarded Mongolia and other neighboring countries as partners for pursuing common development and sincere friends for maintaining peace and stability. We have established partnerships with most of our neighbors in one form or another. We will continue the policy of enhancing good-neighborliness and partnership with neighbors, remain committed to living in harmony and security with neighbors for common prosperity, and uphold the principles of amity, sincerity, mutual benefit and inclusiveness in our relations with neighbors.
"Many hands make light work." China wishes to provide Mongolia and other neighboring countries with both opportunities and space for common development. All countries are welcome to get on board the express train of China's development. As a saying goes, "If you want to go fast, go alone; if you want to go far, go together." I have said many times that in our cooperation with other developing countries, China will set store by upholding moral principles while pursuing its interests. China will not subscribe to the zero-sum approach. When it comes to specific projects, China will give more consideration to the interests of our cooperation partners. We Chinese people attach great importance to taking action to keep promises. We will do whatever it takes to honor our commitment.
Ladies and Gentlemen,
Dear Friends,
As a Mongolian saying goes, "Neighbors are connected at heart and share a common destiny." In the same vein, we often say in China, "Good neighbors are more precious than gold." China has more neighbors than any other country in the world. And this we take as a precious gift.
Although, in the world today, Asia is the most dynamic region for economic development, it is also a region with more hotspot and sensitive issues than other regions. How to properly manage relations with neighbors, live in harmony with each other for common development, and properly handle disputes and differences remains a major issue for Asian countries. I believe that to find a solution, it is essential to follow the trend of the times and the will of the people. We should uphold the principle of mutual respect, seek common ground while reserving differences, adopt a forward-looking approach and seek win-win cooperation. Above all, we should rely more on our oriental wisdom to solve problems, diffuse tension and advance harmony.
The Five Principles of Peaceful Coexistence, jointly initiated by China, India and Myanmar sixty years ago, have become basic norms governing state-to-state relations and thus represent an important contribution that Asian countries have made to the development of international relations. While moving forward with regional cooperation, Asian countries have embraced the Asian approach that features learning from each other through exchanges, mutual respect, consensus-building, and accommodating each other's comfort level. This approach to state-to-state relations fits in well with the specific conditions in Asia. Embodying the Asian tradition of handling relations with neighbors, this approach should be carried forward in order to unleash the endless inherent strength for peace, development and cooperation in Asian countries and the region as a whole. To uphold and practice this approach, we need to do the following:
Respect and trust each other. Many Asian countries had the agonizing experience of being bullied and humiliated by foreign powers, and know full well the value of national independence. Mutual respect for each other's independence, sovereignty and territorial integrity, mutual respect for each other's independent choice of social system and development path, mutual non-interference in each other's internal affairs, mutual accommodation of each other's major concerns are an important foundation on which Asian countries have lived with each other in amity. A region of great diversity, Asia has a tradition of openness and inclusiveness. Countries in this region should increase inter-civilization exchanges and dialogue on an equal footing for better mutual understanding and trust and lay a solid foundation for stability and prosperity in Asia.
Seek common ground while resolving differences. Although friendship and cooperation have been the mainstream in the history of relations among Asian countries, there are still numerous issues left over from history yet to be resolved. Differences and frictions are hardly avoidable among neighboring countries. What is important is how to handle and manage them properly. The most effective way to ensure long-term peace and stability in the region is to build consensus and resolve differences through dialogue and cooperation. We, Asian countries, should bear in mind the overall interests of the world, engage in friendly consultations, jointly participate in regional and international governance and contribute to the building of a fairer and more equitable international political and economic order.
Pursue win-win cooperation. It is a task of primary importance for Asian countries to grow economy and improve their people's well-being. Efforts to enhance mutually beneficial cooperation among them provide a strong adhesive for Asian countries to live in harmony with one another. Asian countries should, in the Asian spirit of strength through unity and mutual assistance, help each other and complement each other's strengths to expand converging interests. We should work in concert to make progress in building free trade areas, promote greater connectivity and deepen regional economic integration for the benefit of common development. Together, we should make a bigger pie of common interests and bring more benefits to all the people in Asia.
Ladies and Gentlemen,
Dear Friends,
This trip has made me feel even more strongly that China-Mongolia friendship has already taken deep root in the hearts of our peoples. This is the biggest source of confidence and strength for the continued growth of our bilateral relations. I am confident that with the support of the people in both countries, China-Mongolia relationship will usher in an even brighter future.
This year marks the Year of Horse in both China and Mongolia. Horse symbolizes strength and progress, and it is therefore very popular among people in both countries. It is my sincere wish that Mongolia will make great strides forward in its national development just like ten thousand horses galloping ahead with full vitality. I also sincerely hope that China-Mongolia comprehensive strategic partnership will advance at fast speed and achieve resounding success. Let us work hand in hand to sow the seed of lasting friendship in the hearts of our two peoples.
Bayarlalaa! Thank you!