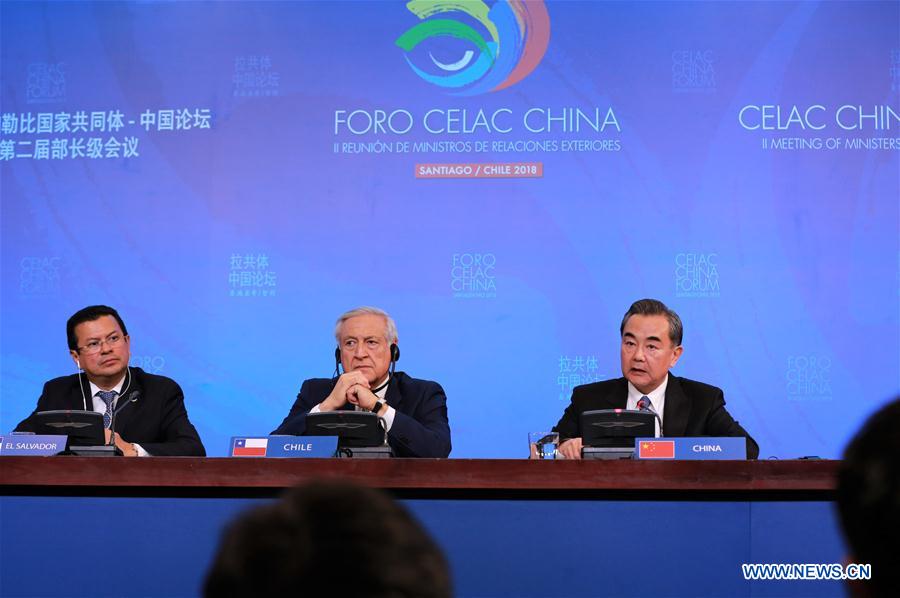 Chinese Foreign Minister Wang Yi (R), Chilean Foreign Minister Heraldo Munoz (C) and Foreign Minister of El Salvador Hugo Martinez attend a press conference in Santiago, Chile, Jan. 22, 2018. [Photo by Xu Rui/Xinhua]
On Jan. 22, 2018, the Second Ministerial Meeting of the Forum of China and Community of Latin American and Caribbean States (CELAC) was inaugurated in Chile. President Xi Jinping sent a congratulatory letter and expressed his warm congratulations on the convening of the meeting.
Xi Jinping pointed out in the congratulatory letter that since the first ministerial meeting was held in January, 2015, with the joint efforts of China and Latin America and the Caribbean (LAC), the China-CELAC Forum has become a main channel for the overall cooperation between both sides, bringing along fruitful achievements to the cooperation in various fields.
Xi Jinping pointed out that the world is now undergoing the period of great development, changes and adjustment, with the interrelation and interdependency of all countries increasingly deepening and mankind facing many common challenges. Although China is geographically distant from LAC countries, we are all developing countries and pursuing for the common dream of world peace, development, prosperity and happiness of our people. The Chinese people would like to join hands with peoples of all LAC countries to make greater contributions to pushing forward the building of a community with a shared future for mankind.
Xi Jinping stressed that China and LAC countries have ushered in the "Pacific Maritime Silk Road" in history. Today, both sides should draw a new blueprint for the joint construction of the "Belt and Road" initiative, forge a cooperative path across the Pacific Ocean, and more closely connect together the two wealthy lands of China and LAC, so as to open up a brand new era of China-LAC relations.
Representatives of China, member countries of the CELAC and relevant international and regional organizations jointly attended the opening ceremony of the Second Ministerial Meeting of the China-CELAC Forum.