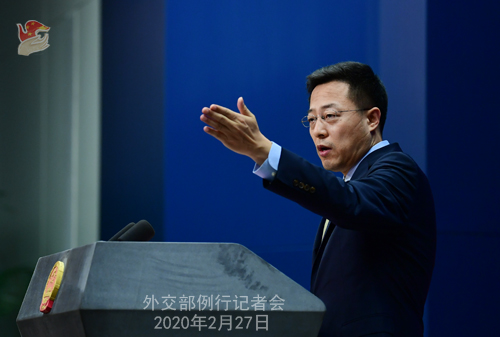 Foreign Ministry Spokesperson Zhao Lijian at a press briefing on Feb. 27, 2020. [Photo from the website of the Ministry of Foreign Affairs of the PRC]
BEIJING, Feb. 27 (Xinhua) -- China appreciates the open letter by the U.S. Jewish community that expressed its support for Chinese community in the United States and Chinese people who were affected by the novel coronavirus outbreak, Foreign Ministry Spokesperson Zhao Lijian said Thursday during a press briefing.
"I have also read the open letter, which is a moving reflection of the friendship of American Jewish organizations toward the Chinese American and Chinese communities," Zhao said.
David Bernstein, president and CEO of the Jewish Council for Public Affairs, delivered the letter signed by 87 Jewish organizations across America to the Chinese Ambassador to the United States Cui Tiankai on Wednesday afternoon.
"This is another example of the friendship between the Chinese and American people, and between the Chinese and Jewish people. We applaud them and extend our heartfelt thanks to them," he added.
Virus knows no borders. Infectious diseases are a common challenge facing the people of China, the United States and the rest of the world. Unity and cooperation is the most powerful weapon against diseases, he said.
"China will continue to work with the international community to win the battle against the epidemic and jointly safeguard the health and well-being of mankind," the spokesperson said.